Buyuden (武勇伝, BUYUDEN) is a Sports-themed Japanese manga written and illustrated by Takuya Mitsuda. It started serialization in Weekly Shōnen Sunday on March 16, 2011. The individual chapters are published in tankōbon volumes by Shogakukan, with 6 volumes currently published as of October 2012.
Isamu Take is an elitist 6th grader who looks down at his peers because he is the best at everything he does at school, from looks and smarts, to his luck with girls and his abilities as an athlete. He considers himself to be in the top percent of his age group and is incredibly bored with interacting with the so called normal people. A new student, Moka Kaname, transfers into his school and as she is fairly pretty, Isamu asks her out.
Moka mishears what he says and thinks he wants to challenge her, as she grew up boxing. In fact, Moka is an amazing fighter and can even take down 5 middle school boys at once. Although Isamu can't stand her violent personality and she can't stand him for having so much pride, they start to grow attracted to each other. But then Isamu finds out that not only is Moka more athletic than him from all her years of boxing, she's also much smarter than him. Will he able to get over his overly sensitive pride and dive into a romantic relationship?
Buyuden has been published in the manga magazine Weekly Shōnen Sunday since March 16, 2011. Buyuden is written by and illustrated by Takuya Mitsuda, and has, so far, been collected in 6 bound Volumes.
By Volume
Edit
By Chapter
Edit
See main: List of Chapters
Story Arcs
Edit
Main article: Story Arcs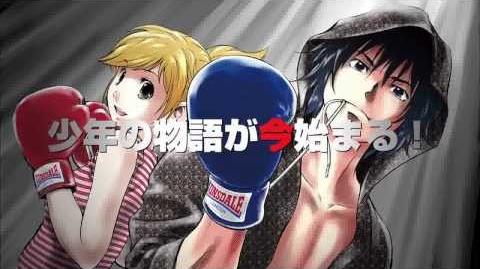 Buyuden Commercial
External Links
Edit